ed to HURRICANE TOWN ELEMENTARY Good morning! Please be reminded that this week is your opportunity to change your child's instructional model for 4th nine weeks of this school year. If you would like for your child to switch from in person to virtual or from virtual to in person, please reach out to Mrs. Dempsey by phone or email today or tomorrow. 304-562-3610 or
sdempsey@k12.wv.us
This will be your last opportunity to make a change in your child's learning model for this school year. Requests to switch made after tomorrow, March 21 at 2:30pm can't be guaranteed. If you make a change, your child's new learning model will begin on April 5. Thanks and have a great day!
Please be advised that all Putnam County Schools will dismiss 3 hours early today, Thursday, January 6, 2022. Hurricane Town Elementary will dismiss students at 11:50am. Hurricane Town Pre-K will dismiss at 11:00am. There will be no after school tutoring today and there will be no archery practice today. Thank you!
Today your child will bring home a paper copy of the Student Daily Health Assessment. Please make sure you keep a copy of this on hand at your home, and please assess your child every morning before sending them to school. While we understand that many illnesses are prevalent right now, the number of cases of Covid in our region are also at a high level. Please help us to stop the spread of all types of illness and keep all of our kids healthy by referencing the Student Daily Health Assessment Sheet each day. Thank you!
Good evening Hurricane Town! Thank you so much for a wonderful first day of school! We appreciate your continued patience while we implement our new drop off and pick up procedures for car riders. As with any new procedure, time and practice will help work out the kinks! A few things you can do to do to help speed up the process... 1. Practice buckling and unbuckling seatbelts and restraints with your child so that they can be ready to quickly and safely exit the vehicle when it's their turn. 2. Make sure your child can carry their own backpack, water bottle and lunchbox and be sure that they are ready with those items when it is time to exit the vehicle. 3. Keep the lane in the front open for bus arrival and allow all buses to enter the flow of traffic when exiting the lot. 4. Please keep interactions with staff on duty to a quick and friendly greeting and we will do the same with you. If you need to talk in detail with a staff member, please call or message us so that we can dedicate the time needed to your questions and concerns. Thanks again for your patience and help as we ensure the safety of all students at Hurricane Town! Have a great evening!
Good afternoon! If you have not already done so, please visit Schoology and watch the video created by HTES staff to explain the new arrival and dismissal procedures for the 2021-2022 school year. We plan to begin this new procedure on the first day of school. We will not be able to invite families to walk their child to the classroom tomorrow, but we will have plenty of staff on duty to assist all children in getting to their classrooms. Doors and the gate will open at 7:35am. We look forward to seeing you tomorrow for the first day of school!
Good afternoon Hurricane Town! We would like to invite you to our Open House on Friday, August 20 from 5-6:30pm. Families with last names beginning with A-L are invited in from 5-5:45pm and families with last names beginning with M-Z are invited in from 5:45-6pm. Teachers will have class lists posted outside their doors to direct you to the proper classrooms. Please be advised that based on direction from local health officials, Putnam County Schools will require masks for all indoor activities beginning tomorrow, Friday August 20. Therefore all in attendance at Open House will need to wear a mask. Masks will be available at the front door for those who may need one. We are so excited to see you tomorrow evening for Open House!
New student registration for the 2021-2022 school year will be held on Wednesday, August 11, 2021 from 9am-12pm.
Effective tomorrow, Tuesday, May 25, 2021, Putnam County Schools will no longer require students to wear masks when participating in outdoor physical activity such as recess or PE class. If you would like your child to continue to wear the mask outdoors, please send a note with your child. We will continue to social distance as much as possible, and masks will continue to be required at all times indoors and on the bus. Thanks and have a great evening!
Please see the attachment for information about a recent Covid-19 case at HTES.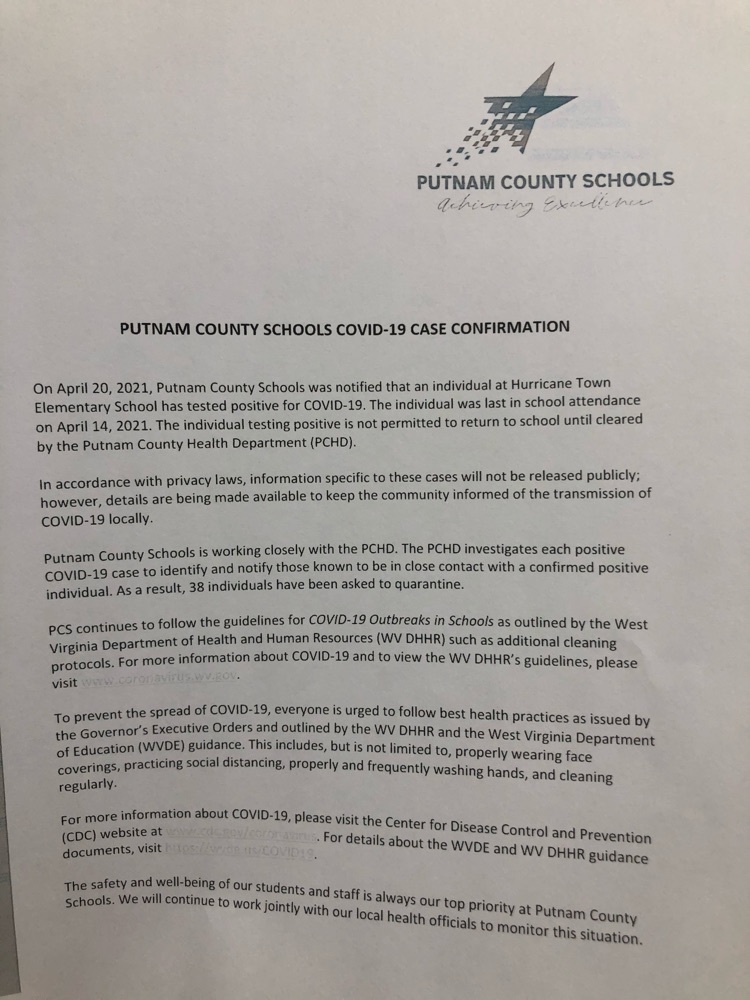 Oops! That last message should have said the last day for switches is tomorrow, March 12, not March 21. Sorry for any confusion!
Congratulations to Allie White & Amie Escue! They were the winners of Hurricane Town PTO's Disney Raffle Tickets. Congratulations also to our top sellers! Piper Hutchinson 1st place Marek Midkiff and Kylee Rauen tie for 2nd place Hudson Wideman 3rd place Our top selling grade level was fourth grade! Thanks to all for your support of HTE PTO.
The window to change your child's instructional delivery model for 4th nine weeks (virtual to in-person or in-person to virtual) will be from Monday, March 8 through Friday, March 12. Requests to change made after March 12 at 2:30pm cannot be guaranteed. To make a change, please call Mrs. Dempsey at 304-562-3610 or email
sdempsey@k12.wv.us
. Your child's new instructional model will begin on April 5, 2021. If you do not wish to make a change, you do not need to call or email. Thank you!
Thanks so much to everyone who participated in Hurricane Town PTO's Disney Raffle Fundraiser! If you were absent today, or if you forgot to turn in money today, you may still do so tomorrow. Tomorrow will be the last day for submitting money and tickets. Winners will be announced on Friday! Thanks and have a great evening!
Lunch Menu Changes Tuesday- Beefy Nachos Wednesday- Breaded Chicken on a Bun Thursday- Spaghetti Friday- Corn Dogs
Good evening! Just a few reminders for all Hurricane Town families. Tomorrow is make up picture day for any student who missed the first picture day or any student who needs a retake. Virtual students time slot is 8:30am-9:30am. The front door is the entry point for virtual students and they will exit out the music room door after their photo is taken. Safety protocol will be in place and virtual students are asked to wear a mask when in the building. Today your child should have brought home information about a fundraiser for our PTO. Please consider participating in this Disney ticket raffle! Don't forget that registration is now open online for 2021-2022 Pre-K! Visit Putnam County Schools website to sign up. Feel free to call the school if you have any questions or if you need assistance with registration. Thanks and have a great evening!
PCS announced today that Friday, February 26 will be a two hour early out for faculty senate meeting. Hurricane Town will dismiss at 12:50 on Friday. Thank you and have a good evening.
Please help us spread the news! Pre-K registration for the 2021-2022 school year is now open! To register, parents need to visit to
www.putnamschool.com
. Under the menu tab choose "Parents", then "Pre-K" to find the link for registration.
Please help support our PTO!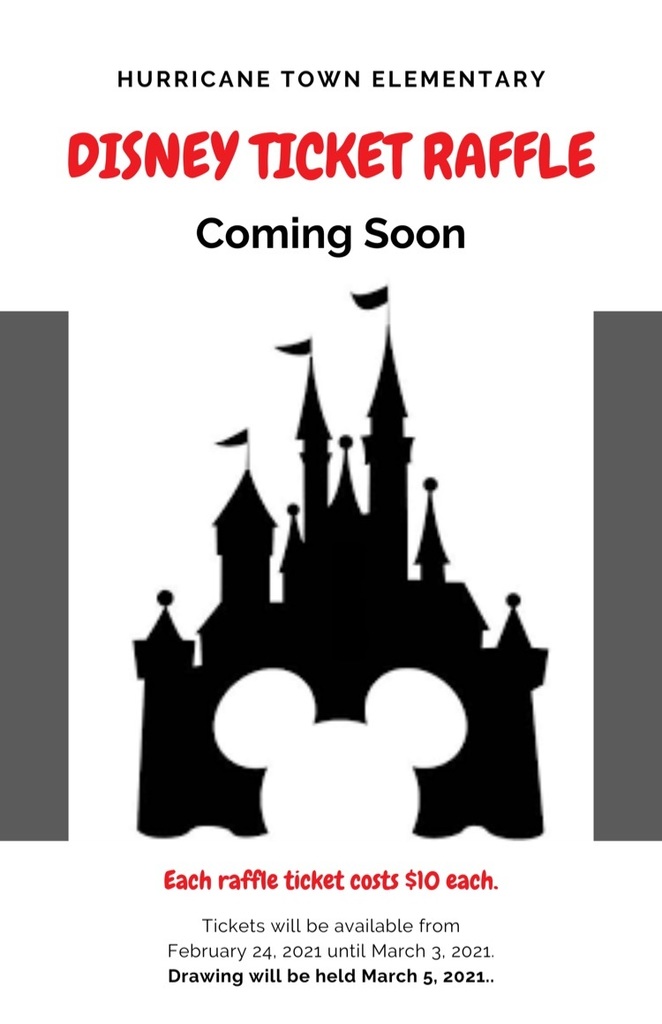 Putnam County Schools announced an Off Site Remote Learning Day for today, Monday, February 15th. This means that all students and staff are learning and working from home. Live lessons on Teams will begin no earlier than 10:30am. Please check your teacher's Schoology page for their posted schedule of live lessons and assignments for today. We are aware of power outages in our attendance area. If you are without power or internet service, you will not be counted absent. We do ask that parents contact your child's teacher to make them aware, or send a note tomorrow. Please understand that some staff members are without power or internet service as well. Please continue checking Schoology throughout the school day for updates from your teacher. There will not be a pick up today for 5 day boxed meals for virtual learners. The pick up will happen tomorrow if school is open to staff. Your child's teacher will announce plans for rescheduling the classroom Valentine celebration, please check Schoology for this information.
Putnam County Schools will be closed today, Friday, February 12th. No remote instruction will be provided, and no curbside meal service will be available. All classroom Valentine celebrations at Hurricane Town will be moved to Monday. We hope you are warm and well! Have a good weekend!